2017 Breyer Fun Days! Contest Winners!
2017 Breyer Fun Days! Contest Winners!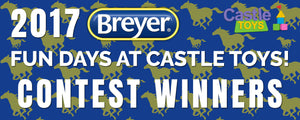 On Saturday, June 10, 2017, Castle Toys showcased our 20th Annual Breyer Fun Days! This amazing event had horse lovers, compete in a diorama-creating contest and a mini-model horse show using their favourite Breyer horses!
Besides the friendly competition, all participants received a loot bag of door prizes just for coming out, and winners received awesome Breyer prizes and ribbons. We also had a craft table set up for miniature horse painting throughout the weekend!
Take a look at the photos from this year's event, and be sure to join us in 2018 for Breyer Fun Days!
---
Junior (9 to 16 years old)
1st: "The Stallion Solar System" - Serena M.
2nd: "Star Wars Horse Edition" - Hope M.
3rd: "The Secret River" - Emma S.
Adult (17+ years old)
1st: "Sunday Afternoon" - Lydia M.
2nd: "Spring in Alberta" - Georgia B.
We'd like to extend a huge thank-you to all of the participants who created unique dioramas this year!