BRIO Play Days 2023
BRIO Play Days 2023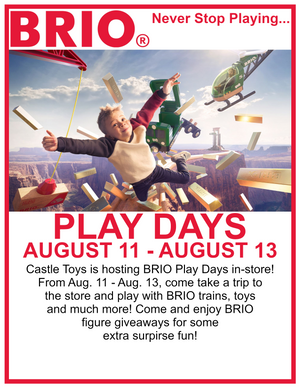 BRIO Play Days 2023
Choo-choo! From August 11 - 13, take a trip to Castle Toys to celebrate BRIO Play Days in-store.

BRIO Play Days are excellent for letting your little ones explore their imagination with the World of BRIO. There will be little goodies for the kids and BRIO toys for them to play with. This event is free, so come take a look and see all the wonderful trains and play sets from BRIO.
Have fun and never stop playing!
We hope to see you soon.   
With a clean and simple design language, BRIO's products encourage and open up a whole universe of fun, where the only limitation is child's own imagination. This is a play-philosophy BRIO bases all their products on, and it's one that they stayed true to since the birth of their company.